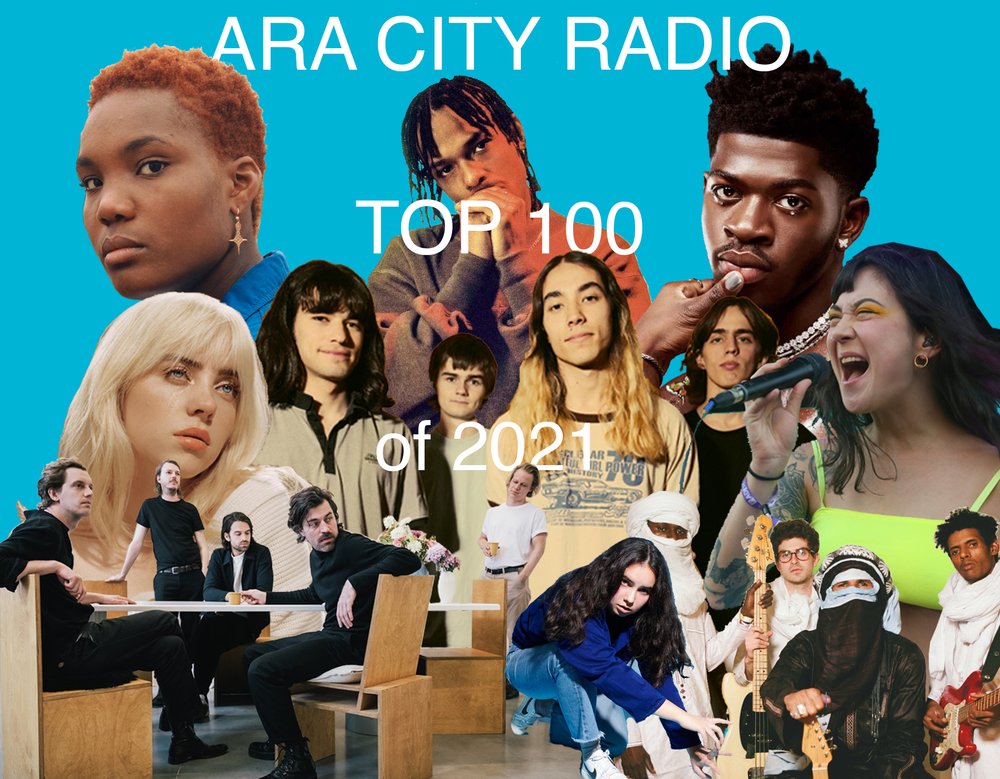 2021 was a great year for new music. Huge albums came out from the stars like Adele, Billie Eilish, and Taylor Swift and there were brilliant first offerings from the likes of The Lazy Eyes, Dry Cleaning, Berwyn and Arlo Parks.
Here's the countdown of our top 100 tracks from the year, compiled with input from our listeners on the first show of the new year.
100-50:
100. Abisha – 'If You Were Mine'
99. Chai – 'Action'
98. Brigid Mae Power – 'Didn't Rain'
97. Deb Never – 'Sweet & Spice'
96. Miss Grit – 'Impostor'
95. Luke Wild ft. Deb Never – 'Pie'
94. Verzache – 'All I Need'
93. Greentea Peng – 'Nah It Aint The Same'
92. Jack White – 'Taking Me Back'
91. Beabadoobee – 'Last Day On Earth'
90. Francois & The Atlas Mountains – 'Julie'
89. Blondes – 'Out The Neighbourhood'
88. Deb Never – 'Sorry'
87. Blinkie ft. House Gospel Choir – 'Stronger'
86. Fritz – 'Arrow'
85. Dameer – 'Michelle'
84. The Weather Station – 'Tried To Tell You'
83. Nightshift – 'Power Cut'
82. Crumb – 'Gone'
81. Boy Scouts – 'A Lot To Ask'
80. The Lazy Eyes – 'Where's My Brain'
79. Michael Kiwanuka – 'Beautiful Life'
78. Claud – 'Cuff Your Jeans'
77. Berwyn – '100,000,000'
76. Balthazar – 'Losers'
75. Goat – 'Queen Of The Underground'
74. Inhaler – 'Cheer Up Baby'
73. Virginia Wing – 'I'm Holding Out For Something'
72. Fred Again – 'Kyle (I Found You)'
71. Olivia Rodrigo – 'Good 4 You'
70. Tyler Swift – 'Red'
69. Drake – 'What's Next'
68. Tyler The Creator – 'Wusyaname'
67. Kirin J Callinan – 'Dumb Enough'
66. Indigo De Souza – 'Hold You'
65. Kynsy – 'Happiness Isn't A Fixed State'
64. Oh Wonder – '22 Break'
63. Madlib – 'Road Of The Lonely Ones'
62. Cassandra Jenkins – 'Hard Drive'
61. Nana Yamato – 'Do You Wanna'
60. Jose Gonzalez – 'Visions'
59. Iceage – 'Vendetta'
58. Paris Texas – 'Situations'
57. The Exaltics ft. Helena Hauff – 'Creatura'
56. Bruno Mars, Anderson Paak & Silk Sonic – 'Leave The Door Open'
55. Genesis Owusu – 'Gold Chains'
54. Wet ft. Blood Orange – 'Bound'
53. Laura Mvula – 'Church Girl'
52. Adele – 'Easy on Me'
51. Django Django – 'Under Fire'
50. Billie Eilish – Lost Cause
One of the most highly anticipated albums of the year came in the form of Billie Eilish's softmore album Happier Than Ever. Our favourite from the album was third single from the album 'Lost Cause'
49-40:
49. Shungudzo – 'It's A Good Day (To Fight The System)'
48. Peggy Gou – 'Nabi'
47. Altin Gun – 'Yüce Dağ Başında'
46. Khruangbin – 'Right'
45. King Gizzard & The Lizard Wizard – 'Catching Smoke'
43. Jorja Smith – 'Bussdown'
42. Sofia Kourtesis – 'La Perla'
41. Alt-J – 'U&Me'
40. Lil Nas X – 'Industry Baby'
Since exploding onto the scene in 2019 Lil Nas X has taken up a hugely important role highlighting POC LGBTQ visibility in pop music and Hip Hop. This year saw the continuation of his magnificent rise with the release of his debut album 'Montero'. Our favourite from the album was Industry Baby.
39-30:
39. The Weeknd – 'Take My Breath'
38. Girl In Red – 'Serotonin'
37. 24kGoldn – 'Outta Pocket'
36.Working Men's Club – 'X'
35. Sports – 'Call Me Any Time'
34. Snail Mail – 'Glory'
33. Modest Mouse – 'Leave A Light On'
32. Yves Tumor – 'Crushed Velvet'
31. Dean Blunt – 'Dash Snow'
30. Berwyn – Vinyl
Berwyn is a young Trinidadian UK-based artist that is set to take the world by storm next year. His 2021 mixtape DEMOTAPE/VEGA earned him a nomination for the mercury prize. This one got a lot of play in the early morning moments of the show.
29-25:
29. Yaw Tog – 'Fake Ex'
28. Kara Marni – 'Trippin (Tripped Out Soul Mix)'
27. NewDad – 'Slowly'
26. Courtney Barnett – 'Before You Gotta Go'
25. Tali Golergant – 'Lose You'
Rising Luxembourg-based songwriter Tali Golergant released this beautiful single in 2021 building on an excellent body of work and promising a bright future for luxembourgish songwriting.
24-20:
24.Bobby Oroza – 'I Got Love'
23. Laurel – 'Wild Side'
22. Sault – 'London Gangs'
21. Skullcrusher – 'Storm In Summer'
20. Vanishing Twin – 'Light Vessel'
London Based Psychedelic Pop outfit Vanishing Twin released their excellent fourth album 'Ooki Gekkou' in 2021 and their performance at Rotondes was one of the live-music highlights of the year for us. Our fave from the album is Light Vessel.
19-15:
19. LSDXOX – 'Mutant Exotic'
18. Dry Cleaning – 'Strong Feelings'
17. Jesse Ware – 'Remember Where You Are'
16. Michelle – 'FYO'
15. Parquet Courts – 'Walking At Downtown Pace'
14. Boys Noize & Abra – 'Affection'
13. The War On Drugs – 'I Don't Live Here Any More'
Still going strong on album number 5, The War On Drugs came back this year with this brilliant offering, simply doing what they do best: Dreamy, Epic Rock n Roll. The title track of the album has been on constant rotation here since its release.
12-10:
12. Beach House – 'New Romance'
11. Lime Garden – 'Sick and Tired'
10. Balthazar – 'Hourglass'
With their latest album 'Sands' Balthazar continued their monumental rise as one of Belgium's greatest music exports. The new songs translated amazingly in a live setting when they played a sold out-show at the Atelier in November. This track 'Hourglass' is our favourite from the album.
9-5:
9. Mdou Moctar – Afrique Victime
8. Cool Ghouls – 'Helpless Circumstance'
7. Wet Leg – 'Chaise Longue'
6. Foals – 'Wake Me Up'
5. Francis Of Delirium – 'All Love'
In 2021 Francis of Delirium has been baring the torch for the Luxembourgish Music scene with her brilliant brand of grunge-y indie rock. Having successfully toured internationally this year as well as wowed crowds all over the grand-duchy she's a hugely exciting prospect and we can't wait to see what she does next.
4. Goat – 'Fill My Mouth'
This one was a fave as soon as we heard the flute come in. in 2021 Swedish Psychedelic Rockers Goat released Headsoup, a compilation of songs from across their four previous albums. Lucky for us, there were a few new tracks hidden in there, including 'Fill My Mouth' an excellent and raucous blast through breakbeats flute solos and fuzz guitars.
3. Japanese Breakfast – 'Be Sweet'
'Be Sweet 'is an infectious piece of Disco-Pop by New York Indie Rock-Pop outfit Japanese Breakfast that makes you smile whenever you hear it. This one was probably our most-played track of 2021.
2. Arlo Parks – 'Eugene'
Deserved winner of this year's Mercury Prize, Arlo Parks' debut album 'Collapsed in Sunbeams' is an absolutely beautiful piece of work and Eugene held our vote for the top spot in this list for most of the year.
1. The Lazy Eyes – 'Fuzz Jam'
They left it till late in the year to release this one but as soon as we heard 'Fuzz Jam,' it stole our hearts and our ears and has been on repeat around here since then. The Lazy Eyes look set to blow up as the next Australian psych band to follow in the footsteps of Pond, Tame Impala and King Gizzard on the path to rockstar status. We can't get enough of this tune so you'll probably be hearing a bit more of it in 2022.