Today on The Breakfast Show for 'Lost In Music', we asked the listeners to write in with their favourite 80s tracks. The response was huge, with the whole second half of the show being taken up by requests for songs by the likes of Billy Idol, The Human League, Whitney Houston, Tina Turner and more.
The 80s was definitely a huge decade for innovations in pop music but what made it sound so new and exciting? In this article we examine four major developments in recording technology that catapulted pop music into the future in the 1980s and gave it that defining sound that we now recognise immediately.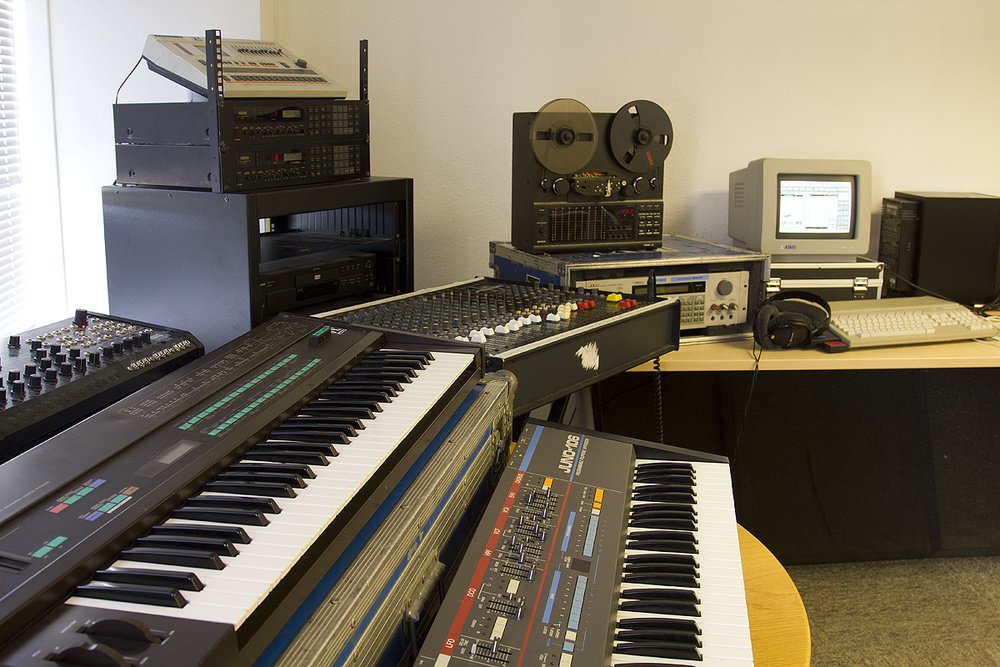 1. Drum Machines
Previously to the 1980s drum machines mostly existed as in-built units on electric organs that played rather thin-sounding stock rhythms such as 'rock', 'rumba', and 'waltz'. This all changed when Roger Linn introduced the Linn DM-1 and LinnDrum, the world's first programmable drum machines that used digital samples of real drums that could be tuned and manipulated by the user, setting the standard for the other major electronic percussion machines that later came into existence. These machines were immediately adopted by pop musicians and producers and can be heard in countless tracks from the 80s including the Prince's '1999', Frankie Goes to Hollywood's 'Relax' and 'Don't You Want Me' by The Human League.
2. Digital Synthesisers
The advent of widely available digital synthesisers (i.e. synthesisers that produce computer-generated sounds as opposed to analog synthesisers that generate sound through electricity) with the introduction of the Yamaha DX7 to the market in 1983 opened up a huge variety of possibilities in sound production in 80s. Suddenly everything from bass lines to pianos, string ensembles, percussive sounds and just about anything else could be played at the touch of a button, edited and saved as a digital patch to come back to later. The DX7 can be heard on Tina Turner's 'What's Love Got To Do With It,' Aha's 'Take On Me' and Bon Jovi's 'Livin' On A Prayer'.
3. MIDI
MIDI stands for "Musical Instrument Digital Interface" it is a system that was introduced in the 1980s that allowed different electronic instruments (such as synthesisers and drum machines) to communicate and send information to each other such as when to play a note, what pitch to play it at and how loudly. Suddenly whole parts of songs that would have usually been played by a human player could be pre-programmed or sequenced to be played over MIDI. This gave music the very quantised, robotic and precise edge to it that is often associated with the music of the 80s. You can hear this clearly on 'Blue Monday' by New Order
4. Gated Reverb
Even if you don't know what it is, you would probably agree that gated reverb is 'the sound of the 80s'. But what is it? it's a recording technique that was first used to huge effect on Phil Collins' 'In The Air Tonight' that is used to make drums sound unnaturally huge and up-front. It's achieved by recording drums with a huge amount of reverb on them and then gating the sound so that the natural tail of the sound's reverb gets cut off. This technique was used on countless tracks in the 80s. For example it is responsible for the massive snare drum sound in Bruce Springsteen's "Born In The USA" and the drum sound in Kate Bush's 'Hounds of Love'
Check out our playlist of 80s classics including all the tracks submitted by our listeners for today's 'Lost In Music'