Lisa talks to Zohra Barthelemy from  Youth For Climate Luxembourg about the challenges the organisation has faced this past year and why they are back with urgency now and a live event on the 24th September.
They talk about the message "Das Wasser Steht uns bis zum Hals" and the sense that time is running out to avert a catastrophe, and the impatience young people have with big business and their inability to change, and how this understanding forms the movements' belief that political changes have to be made to enforce change from top down.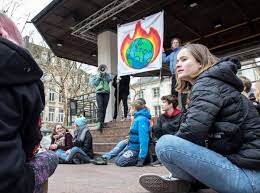 Listen below
Keeping the momentum going online during the pandemic was one thing, but as organisers move on to university can the group keep going? The will is there and there is support from the original team, that is why they are calling on all young people to join their organisation to fight for their future. At the same time they call on everyone to join them at the event on the 24th, regardless of age.